Cylinder Mould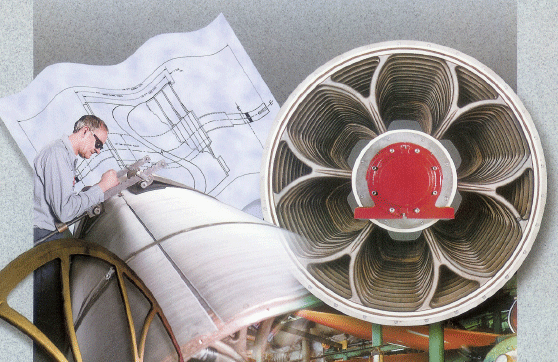 A flexible, creative, open-minded approach to problem solving enables us to offer economical design solutions as we work with you to continually improve the papermaking process.
For more than four decades E.F. Cook Co. has been building superior cylinder moulds. Outstanding features include:
High drawing efficiency
Near perfect concentricity
Maximum open area
Ease of cleaning
Minimum deflection due to a design which emphasizes stiffness and rigidity
At E.F. Cook we employ proprietary manufacturing techniques, sound engineering principles and a team effort to develop the best cylinder mould for your application.
We work closely with you to determine the best cylinder design for your application and provide CAD and 3D visualization drawings for your review and approval prior to construction.
The Centrifugally Cast Core
Our cylinders, with diameters ranging from 30" to 72", begin with a hollow centrifugally cast iron core. Depending on application and budgetary restriction, a core clad with T-316L stainless sheet or a solid T-316L / T-304L center shaft may be used. Subjected to various wet environments, cast iron will not readily rust through and is considerably more corrosion resistant than steel. Centrifugal casting produces a very dense core with excellent balance, rigidity, and walls of uniform thickness. Each core is engineered for maximum operating efficiency with minimum deflection. The core is shrink fitted to each journal, then machined to uniform diameter to accept shrink fitted spiders onto its shaft.
Spider Design
Cook Cylinder Moulds are manufactured with either engineered cast bronze or stainless steel spiders. Bronze and T-316L has offered mills years of trouble free service at an economical cost. In certain environmental applications cylinder moulds may be manufactured in stainless steel.
Depending on your particular application, a copper alloy is selected using the following criteria: corrosion resistance, mechanical properties, physical properties and fabricability.
Engineered for strength, corrosion resistance and machined to precise tolerances, we are proud to say our spiders have consistently met or exceeded mill expectations for endurance and longevity over the years.
Surface Construction
Surface construction is very important in designing the right cylinder mould for your specific machine, whether you are running pressure formers, semi-formers, counter flow, direct flow or dry vats.
Cylinder size, speed, loading, dewatering requirements and open area are some of the variables we consider when recommending a surface construction and face wire selection that will enable your cylinder to operate at maximum efficiency.
Three examples of surface construction, using various sizes and styles of top rods and winding wire, illustrate how open area can be altered. Our years of experience in constructing cylinder moulds enable us to recommend the best design for your machine.

Conventational Round and Wire
Hi-Wire
Flat Bar, Hi-Wire
The Wire Cloth Cover
The final step in construction of the Cook Cylinder Mould is the selection of a backing wire and/or face cloth.
Quality stainless steel wire cloth is woven to our specification using a variety of weaves and wire diameters. Designed to perform in diverse chemical and mechanical environments, our cloth meets the strictest requirements for durability, seam strength, drainage and minimized wire marking.
Our highly skilled seamers choose from a wide selection of brazing alloys using either silver or gold to produce the best straight or helical seam for your application. Once properly tensioned, covers are carefully secured to the cylinder to ensure durability under the most severe conditions.

The principle of the cylinder mould is to provide the forming surface through which water drains to leave the fibers matted in a sheet. The cylinder is designed to allow drainage uniformly across its width with no turbulence to disturb the fibers during formation.
Sheet formation cannot be improved later in the papermaking process; it is produced once and for all on the cylinder mould.